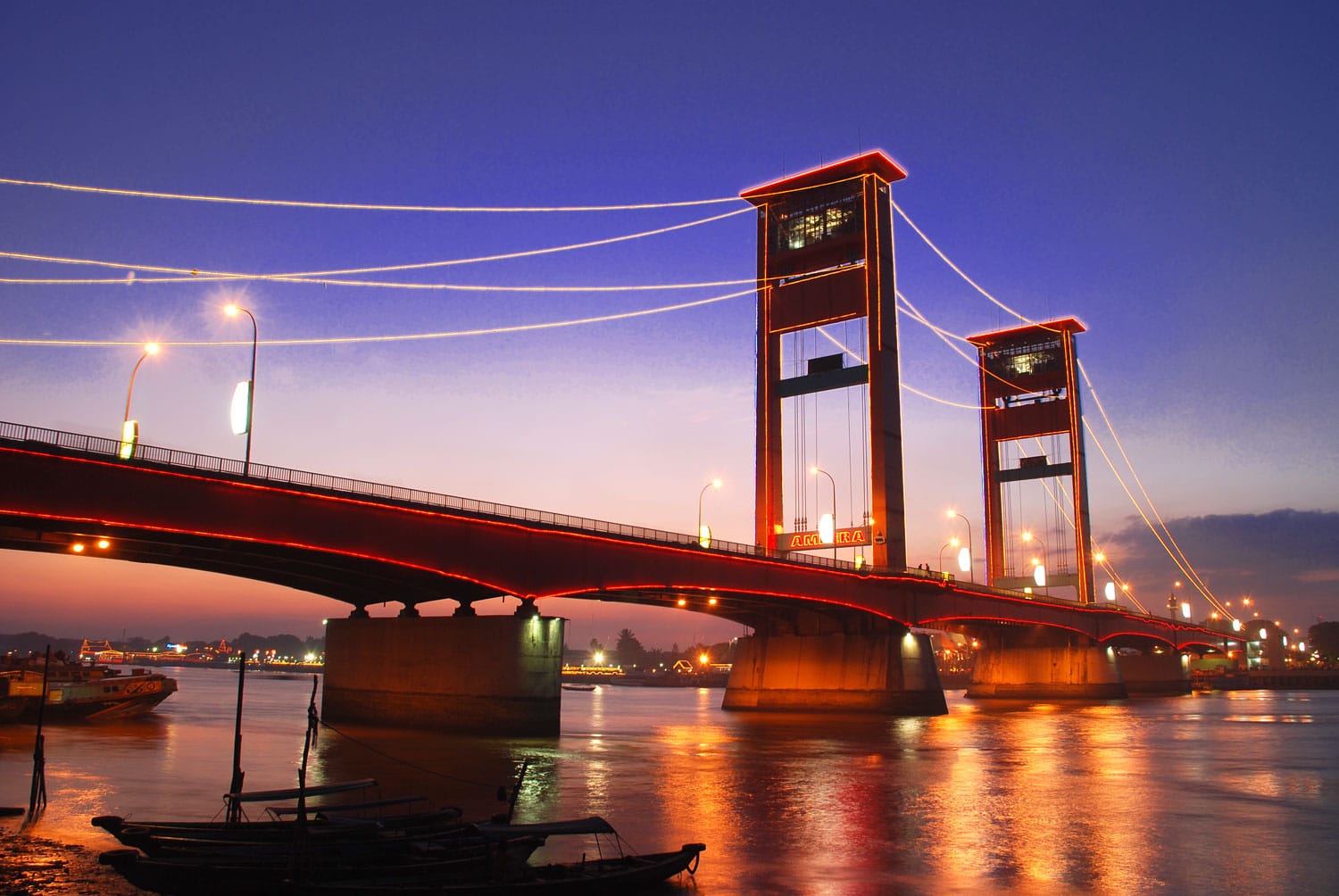 Copyright:anekatempatwisata
Palembang is the capital of South Sumatra province and is the second largest city on the island of Sumatra. Formerly, Palembang Srivijaya empire famous for its existence, the largest Buddhist kingdom in Southeast Asia. As well as the pempek, Palembang also has tourism potential that is not inferior to other cities in Sumatra. What are the tourist attractions in Palembang which must be visited?
1. Bridge Ampera
Copyright:anekatempatwisata
Ampera Bridge is a bridge that has become an icon and a symbol of the city of Palembang. Was built in 1962, the bridge was completed within a period of 3 years. Ampera Bridge connecting door Ulu and Ilir are separated by the Musi River. About 50 meters from the Ampera Bridge, there is a market which is the center of souvenir and food so that you can easily buy souvenirs and fill the stomach.
2. Musi River
Copyright:anekatempatwisata
Musi River is the longest river in Sumatra with a length of 750 KM. Palembang Musi river divides the city into two parts and was once the main means of transportation in Palembang. On the banks of the Musi River there are several attractions, including a floating restaurant, Arab villages, and Kuto Besak. In my opinion, the Musi River is the right place for a culinary tour in the city of Palembang.
3. Island Kemaro
Copyright:anekatempatwisata
Kemaro island located in the middle of the Musi River, about 6 KM from Ampera Bridge. Currently Kemaro Island is one of the tourist attractions in Palembang most famous. On the island there is a monastery Kemaro much visited by Buddhists to pray and make pilgrimages. Here also can be found a tomb is the tomb of a princess Palembang. The princess has its own story, that she was married to the son of the king of China with the dowry in the form of 9 golden urn, but in the end the couple threw himself into the river and drowned.
Kemaro Island there are some interesting things, such as 9-storey pagoda built in 2006, and the tree of love. Local people believe that if lovers carved his name in the tree of love, the love affair they will continue up to the wedding.
4. Forest Park Punti Kayu
Copyright:anekatempatwisata
Punti Kayu Forest Park is a tourist place in Palembang in the form of forests. Forest tourism is the only one in Palembang, no other tourist jungle. Located approximately 7 kilometers from downtown Palembang, Forest Park Punti Wood is one of the favorite family attractions in Palembang. Sektiar area has 50 acres, Forest Park Punti Kayu has a complete tourist facilities, accompanied by a crocodile farm and zoo. In addition to swimming, play boat, picnic, and play in the park, you can also see the elephant and horseback riding here. Forest Park Punti pine forests Wood is the largest city in Indonesia. The admission price Punti Kayu Forest Park is 5,000 Rupiah and is open from 9 am to 4 pm.
5. Kuto Besak
Copyright:anekatempatwisata
Kuto Besak is building pride in the city of Palembang. Stands firmly with stone materials, Kuto Besak a witness the struggle against the invaders. Of Kuto Besak, you can see lots of sailing boats on the river Musi. Kuto Besak is one of the tourist attractions in Palembang which has become an icon of beauty is unique because it offers, especially in the afternoon.
6. The Great Mosque of Sultan Mahmud Badaruddin
Copyright:anekatempatwisata
Great Mosque of Sultan Mahmud Badaruddin is the biggest mosque in the city of Palembang. Building the Great Mosque of Sultan Mahmud Badaruddin is a combination of Indonesian architecture, Europe, and China. This place is a great base for cultural tourism and religious tourism in Palembang. The Great Mosque of Sultan Mahmud Badaruddin you can find 2 market which sells a variety of souvenirs, fabrics, wood crafts, and food.
7. The flower garden fish
Copyright:anekatempatwisata
Fish flower garden is a relic of history since the Dutch colonial era. Formerly, fish flower garden is used for recreation Dutch family living around the park flower fish. Nowadays, fish flower garden is one of the tourist attractions in Palembang highly preferred. Many people jogging in the park, surrounding a pool with a length of over 800 meters. In addition to having a wide range of games facilities, this place also has a lot of restaurants that are suitable for young children congregate.
8. stadium Sriwijaya
Copyright:anekatempatwisata
Sriwijaya Stadium is a football stadium in Indonesia's third largest with a capacity of 40,000 people. In addition to large, Sriwijaya stadium is also recognized as an international-class stadium. Sriwijaya Stadium is building pride Palembang. Sriwijaya stadium currently used by FC as a headquarters and a football match. In addition, the stadium Sriwijaya also often used as a specific event as broad and large capacity.
9. Niagara Lematang Beautiful
Copyright:anekatempatwisata
Located in the city of Pagar Alam, Niagara Lematang Beautiful is one of the tourist attractions in Palembang most famous, in the category of natural attractions. Lematang Beautiful Waterfall has a height of about 40 meters, not too high, but it has a beautiful environment so it is soothing the eyes of visitors. The trip to Niagara Lematang Beautiful will be presenting you a beautiful view, so you will not get bored on the trip. When you come to visit during the rainy season, be careful because the existing stairs in Niagara Lematang Beautiful can be very slippery when exposed to rain. The admission price Lematang Beautiful Waterfall is 4,000 rupiah per person.
Copyright:anekatempatwisata
Cheng Ho Mosque is a mosque that is unique and unparalleled. Why is that? The answer is because the Cheng Ho Mosque has the feel of a typical Chinese culture. Today, Cheng Ho Mosque is not just a place of worship, but has become one of the tourist attractions in Palembang most favorite. Cheng Ho Mosque visitors not only from around Palembang, but also from Malaysia, Taiwan, Jakarta, Singapore, Medan, and others.
That's 10 sites located in Palembang South Sumatra Indonesia.